SDG stories provided by UN Environment
Actor: Grassroots sister team for water conservation in Anji
Related SDGs: SDG 6 Clean Water and Sanitation, SDG 5 Gender Equality, SDG 14 Life Below the Water
安吉河嫂工程,护美绿水青山
安吉位于浙江省北部,以其繁茂的竹林闻名,这里也是习近平主席提出的"绿水青山就是金山银山"的发源地。
用心呵护绿水青山的理念在安吉深入人心。在安吉妇联的引导下,村子里的嫂子们组成护水队,走家入户推行家庭护水民约,清理河边堆放的垃圾,劝导河道周围群众改变不良卫生习惯,检举违法排污行为,精心呵护着自家门口、村庄的河流、池塘和小溪。这既与当地建设"美丽家庭"相结合,也是对浙江倡导的"五水共治"的有益辅助。
通过一点一滴的努力,嫂子们从自己做起,带动身边的人,建设美丽家庭,建设美丽村庄,为美丽中国的建设做出贡献。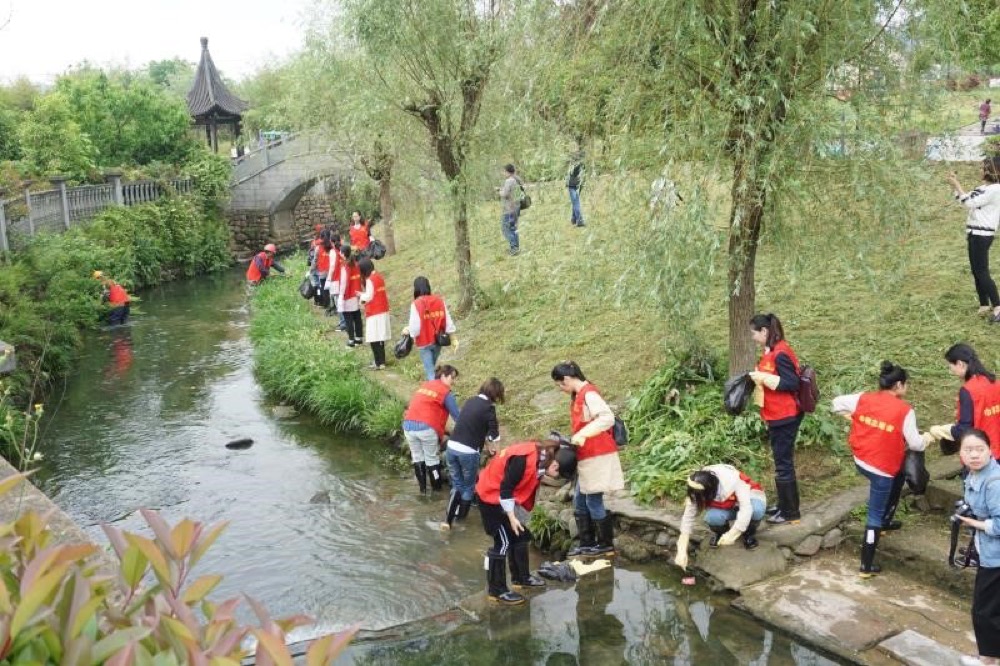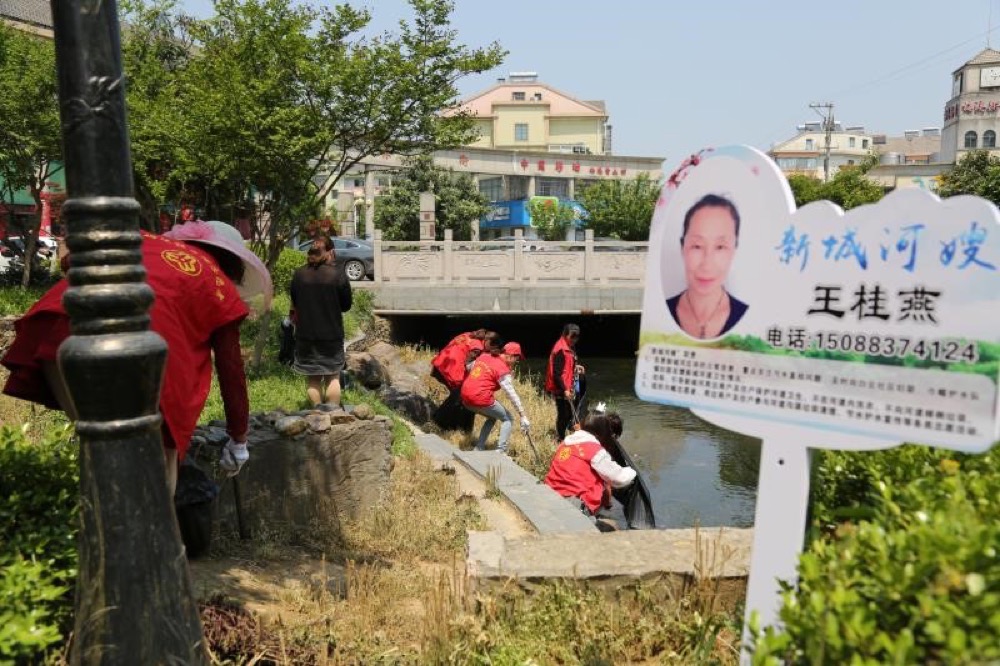 Sisters' solution to protect clean water
Anji, located in the north of Zhejiang Province, is known for its flourishing bamboo plantations. It is the birthplace of President Xi's concept "Green is Gold".
While China's efforts to promote ecological civilization have earned it global recognition, today in Anji, this is highlighted by women – a community-led "Sister Team for Water Conservation" has been motivating local women to participate in environmental protection, starting from cleaning up garbage along the river in front of their houses.
Every month, the sisters carry out river protection campaign in every village. They conduct regular patrols, fill in river log, and keep thorough documentation of management and protection. This grassroots solution also contributes to Zhejiang's innovative practice "Integrated Solutions for Water" – comprehensive efforts for water pollution control including flood prevention, waterlog drainage, water supply and water saving, keeping balance of water demands from daily life of residents, agriculture and industry, and ecosystem.
The story of the sisters brings forth a picture of grassroots action being taken in Anji every day by individuals and communities to protect environment. Step by step, they are taking actions to make a difference in their neighborhood, to build beautiful family and beautiful village, making contribution to a Beautiful China.
---
SDG Story provided by UN Environment
Actor: China Environmental Protection Foundation
Related SDGs: SDG 9, SDG 12, SDG 17
绿色物流倡议

2017年3月,中华环境保护基金会、阿里巴巴基金会、菜鸟网络联合6家国内领先的物流服务商共同发起了菜鸟绿色联盟基金。该基金将向绿色物流项目投入约4000万美元。
作为一个重要里程碑,中华环境保护基金会和菜鸟推出了生物可降解塑料袋及坚固、可重复使用的纸盒,这些纸盒采用了一种特殊的折叠技术和生物可降解的胶水,以取代包装胶带。截止到今天,菜鸟已经用绿色包装分发了超过3000万个包裹。
该倡议进一步推向了城市一级。2017年10月, 中华环境保护基金会、菜鸟与厦门政府发起绿色物流城市项目。今年年初,生态环境部确定厦门等城市为"无废城市"的候选试点城市。
目前,联合国环境署和菜鸟网络正在筹划建立长期合作伙伴关系,推动物流行业的绿色转型。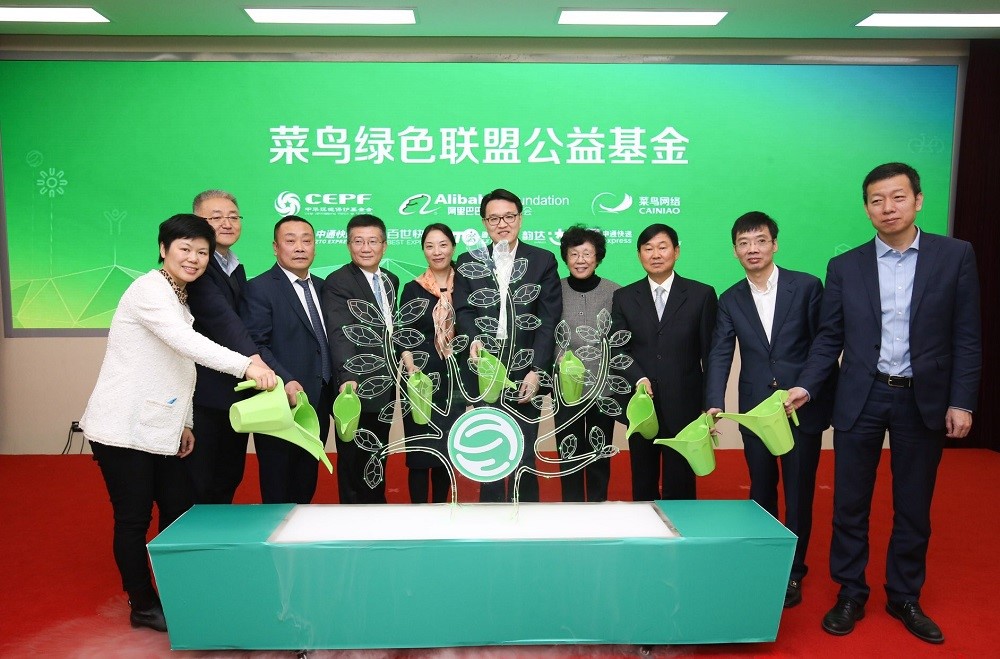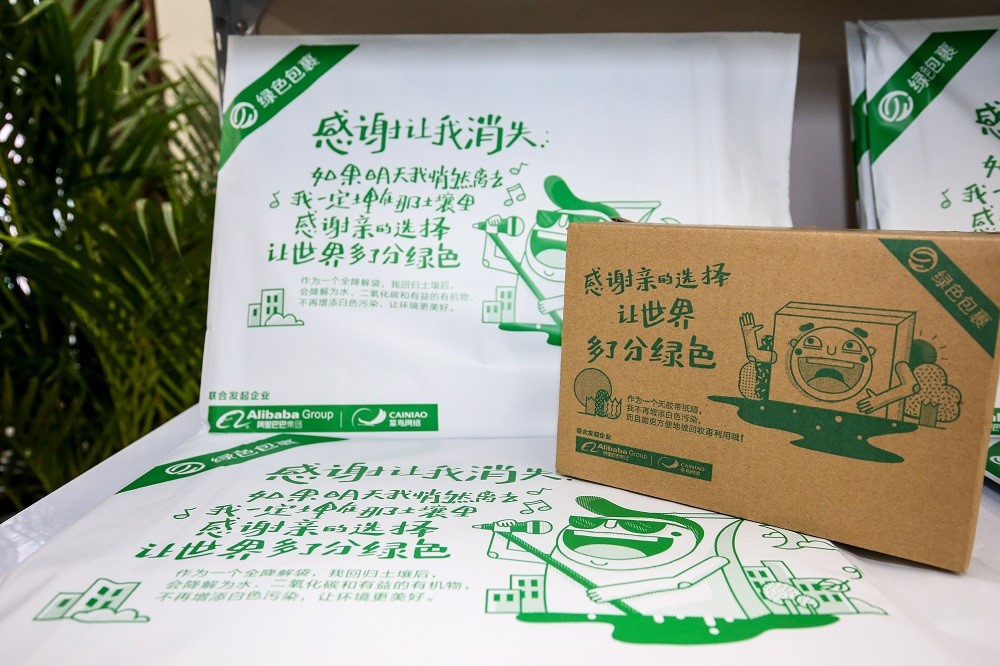 Green Logistics Partnership Initiative
In 2015, China's parcel shipping sector used 7.5 billion plastic bags, 10 billion cardboard boxes and 17 billion meters of wrapping tape, according to Chinese Institute of Graphic Communication. Those materials often end up in landfills since the tape makes recycling much more cumbersome.
As the first charity foundation dedicated to promoting green logistics, in March 2017, Cainiao Green Alliance Foundation was jointly announced by China Environmental Protection Foundation (CEPF), Alibaba Foundation and Cainiao Network along with 6 leading logistics companies in China.
The foundation has committed $40 million into research toward sustainable packaging alternatives. As a key innovative solution, CEPF and Cainiao developed biodegradable plastic bags, glues and reusable paper boxes to replace original wrapping materials. As of today, over 30 million parcels has been distributed using green packaging.
One step further, the initiative pushed towards city level. In Oct 2017, green logistics city project was launched in Xiamen to develop green and smart logistics system. Earlier this year, Xiamen is identified as candidate pilot of "No Waste Cities" by Ministry of Ecology and Environment.
To complement this work, UN Environment and Cainiao are planning to establish a long-term partnership to promote green shift on logistics.
---
SDG Story provided by UN Environment
SDG 13, SDG 15
地球卫士——塞罕坝林场建设者
塞罕坝位于河北省与内蒙古交界地带,经过塞罕坝三代造林者持续50多年的不懈努力,在高海拔、严寒、大风、干旱荒漠地带植树造林百万亩,创造了一个变荒原为林海、让沙漠成绿洲的绿色奇迹:塞罕坝地区生态环境的改善,成为遏阻沙源的屏障、涵养水源区、生物多样性丰富区。这片人造林每年向北京和天津供应1.37亿立方米的清洁水,释放约54.5万吨氧气,同时促进了当地就业和经济发展,是"绿水青山就是金山银山"的现实样板,是生态文明建设的典范。中国国家主席习近平号召弘扬塞罕坝精神,持之以恒推进生态文明建设,建设美丽中国。联合国环境署将2017年地球卫士奖授予塞罕坝林场建设者。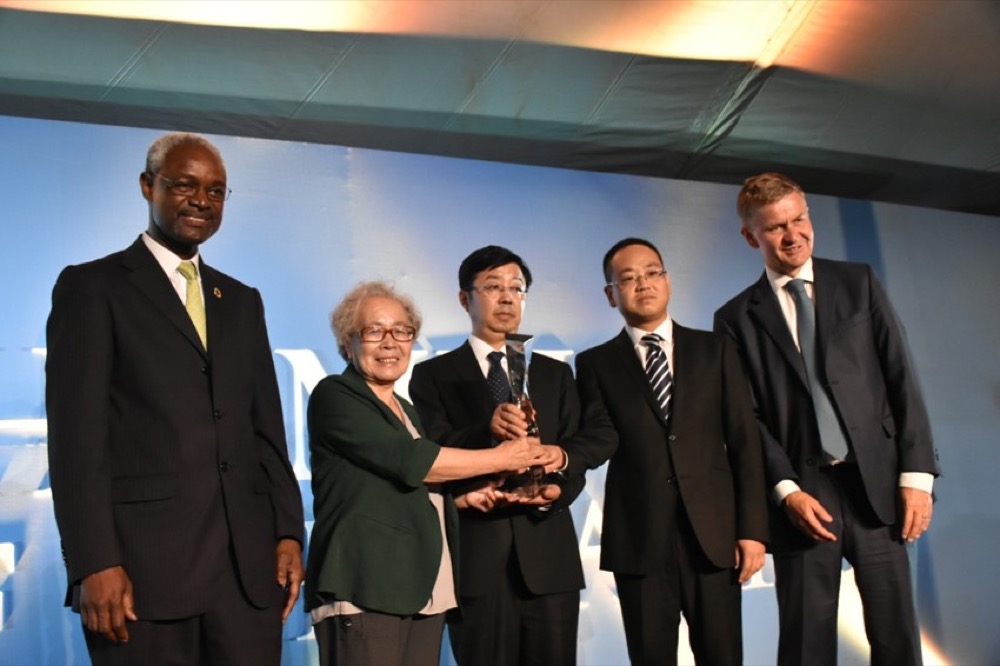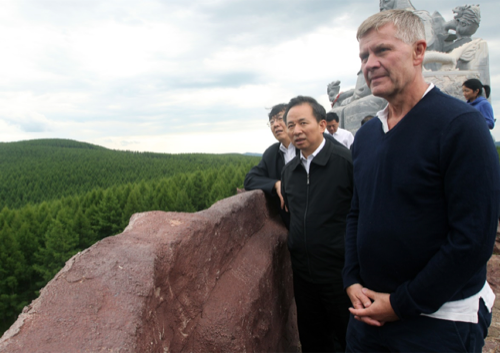 Desert Warriors – Saihanba Forest Community
The creation of the world's largest artificial forest from a barren tract of land provides inspiration for ecological progress
UN Environment's Champions of the Earth award is the highest environmental honor the United Nations can bestow, and celebrates outstanding figures from the public sector, business and civil society who have had a transformative positive impact in the environment.
In 2017, as the demonstration of ecological environment development in China, Saihanba Afforestation Community was awarded Champion of the Earth for Inspiration and Action, in honor of its work transforming degraded land into a lush forested landscape.
Since 1960s, three generation of foresters from Saihanba have managed to increase the forest cover from 11.4 percent to 80 percent while the reclaimed landscape currently supplies 137 million cubic meters of clean water to Beijing. At the same time, the restored forest has stimulated growth of green sectors of the economy that generate an estimated 15.1 million U.S. dollars in 2016. Saihanba spirit was also promoted by Xi Jinping to advance ecological protection.
In accepting the award on behalf of the Saihanba community, Madame Chen Yanxian said: "For more than half a century, three generations followed just one mission in Saihanba, that is to plant trees with our hearts and souls, and turn the barren hills into green mountains. We feel very proud of ourselves for creating such a green miracle."
---
UNEP: SDGs Stories for UN Day
Related SDGs: SDG 4 Quality Education, SDG 7 Affordable and Clean Energy, SDG 12 Responsible Consumption and Production
环保的青年声音

赵益新是北京的一名高中生,过去他一直认为环保与他的生活无关,直到有一天,他发现因为雾霾,他没法出门打篮球了。
"这时,我才开始意识到环境是我们生活的一部分。"赵益新同学说。
赵益新同学曾经很讨厌违规排污的钢铁厂。当他与家人开车经过河北的贫困县时,他才意识到,对某些地区的人来说,这种粗放的发展方式可能是目前他们谋生的唯一途径。他进一步思考,在经济发展中,我们往往忽视了环境,但是这二者本不应该是矛盾的。
为了深入学习环境方面知识,2017年,益新参加了由联合国环境署、中国日报和北京环境宣传教育中心联合举办的联合国中国青少年环境论坛。该论坛旨在把环境教育纳入到青少年素质教育体系,为青少年学习环保知识提供了很好的交流平台。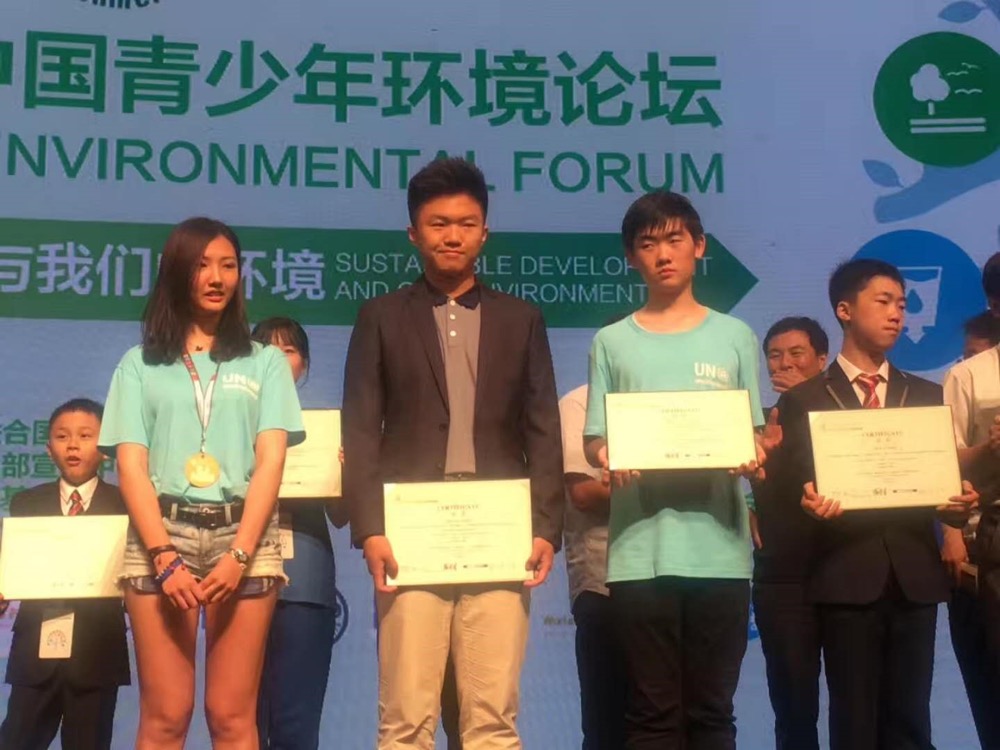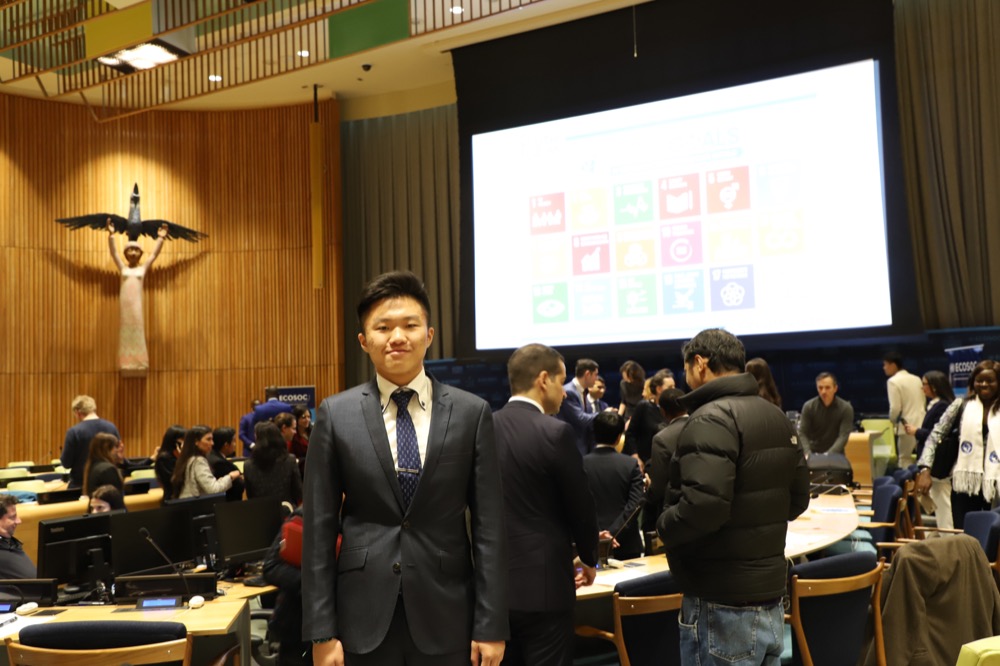 Young People to Make a Difference on Environment
Zhao Yixin, a high school student in Beijing, used to think environmental protection was not connected to his life, until one day he found the smog in Beijing blocked him from playing basketball.
"During such days we had to be trapped indoors. And I began to realize environment is part of us," Yixin said.
Yixin once hated the steel factories, which were ordered to close, were still working to generate more smog. But when his families drove through the poor counties of Hebei, he saw their damage to the environment was because it was the only way to make a living. He realized that the environment was often neglected when it comes to economic development, but the two were not necessarily contradictory.
By conducting research on how international investment affects corporate culture, he found some overseas projects would require the companies to adjust its management system to adapt to the local laws, including those involving environmental protection.
To dig deep on environment-related projects, Yixin attended 2017 UN China Youth Environment Forum jointly held by UN Environment, China Daily and the Center of Environmental Education and Communications of the Ministry of Ecology and Environment, annual event aiming to integrate environmental education into Chinese youth quality development program.
责任编辑人:吕育苗 PSY025